Pop up Community (2021)


Residents of Wanchai know the needs of their community better than anyone else but few of them are ever consulted when changes are made to the spaces they inhabit. This time at Pop-Up Community @ M7, community members in Wanchai will be invited to examine their local neighbourhood in order to pinpoint problems in the public spaces. Specially crafted public furniture will then be designed and installed in the open spaces of 7 Mallory Street to respond to these issues.

Presented by Urban Renewal Authority's 'Arts and Cultural Partnership Programme in Old Urban Districts'


Part 1: Collaborative Public Furniture Design Workshop

Pop-Up Garden @ M7 comprises two major components: storytelling and design, both of which are tightly tied with the notion of community and made suitable for people of all walks of life. For design, product designer Kay Chan will lead Collaborative Public Furniture Design Workshops to realise ideas of residents for the community. Participants will be invited to collectively design benches that suit the needs of their community. These benches will then be displayed at 7 Mallory for public showcase.




Part 2:

Second-hand tables and chairs were donated by neighbours in the Wanchai District. Integrating the idea of the workshop, the product designer team will carry out the upcycling transformation project, transforming some old tables and chairs with stories, into public furniture at M7.


Mirror

It was a white bench from a large multinational company. Four years ago, two of the same style were purchased by Sabina, a former Wanchai neighbourhood. Her family of four liked to sit on these two chairs looking at each other and enjoy dinner, talking about big and small anecdotes and thoughts. Later, when the children grew up, the benches were no longer suitable for the two of them to sit side by side, so they were moved to the outdoor terrace. The family sits on the white bench and takes a break in the shade, quieting themselves for a moment. When the family was about to move, they donated benches, hoping that people from all walks of life could sit together, chat easily, and exchange their lives.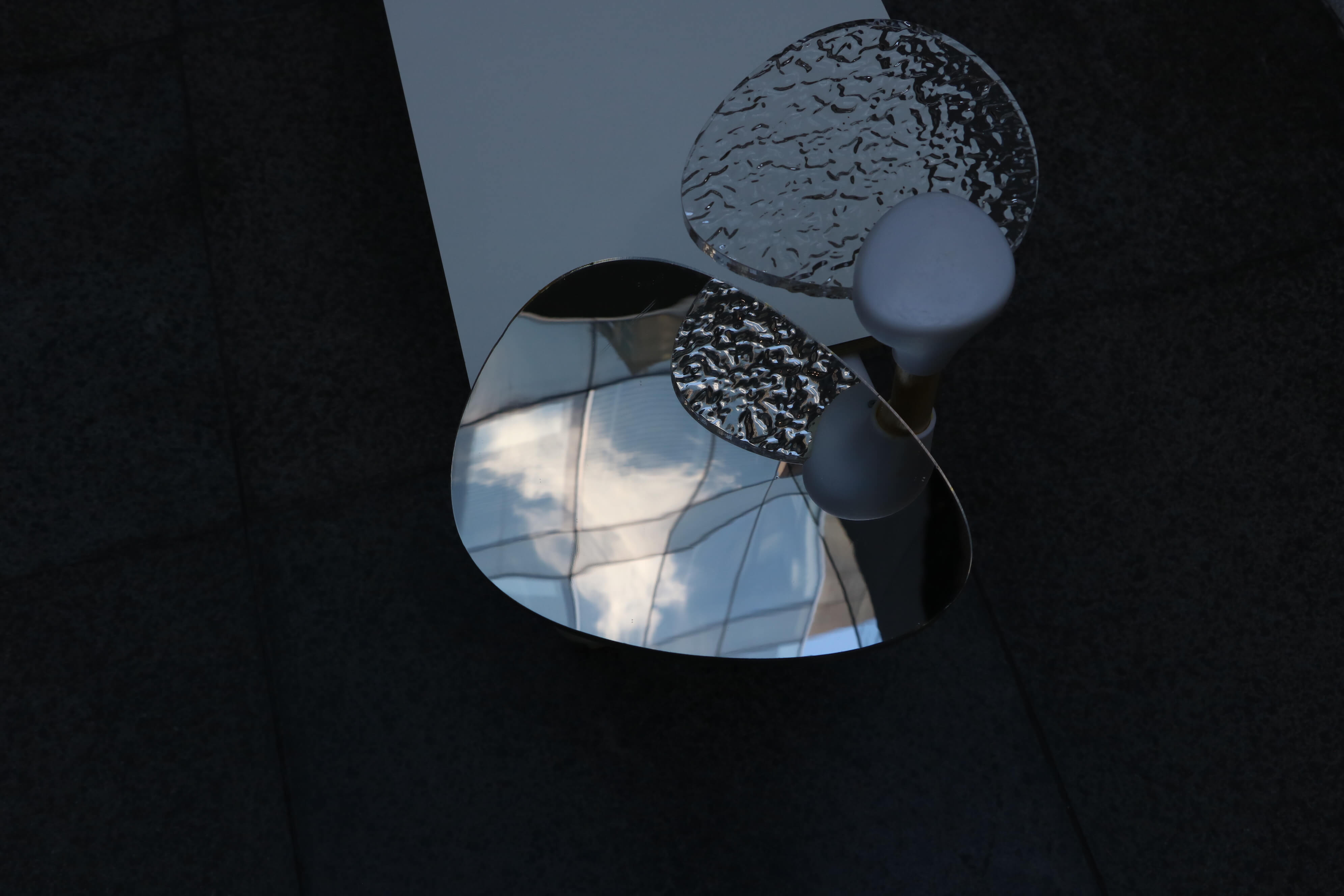 The mirror reflects the surrounding, and the transparency allows you to gain clear eyes. The converted benches are equipped with mirrors and transparent countertops. You are welcome to come at any time with a cup of coffee in hand, slowly walk to M7 and sit down, enjoying the tranquillity in the busy city leisurely. I hope that when you are resting or reading on Mallory Street, you will not forget to pay attention to the surrounding environment - an oasis in a busy city; through the mirror reflection, it reminds you to read with your head down, and don't forget to look up to appreciate the blue sky and white clouds you encounter every time . When using the transparent countertop, it will shake slightly, and the sunlight will reflect the halo and ripples on the floor tiles, illuminating the surrounding historical traces.
Donor: Former Wanchai Neighbour, Sobina
Artist / Designer: Kay Chan Wan Ki / Winky Chung Wing Yee